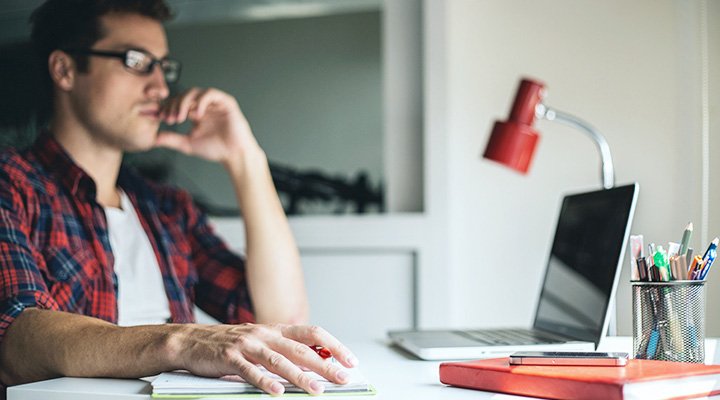 Did you know that three of the leading causes of financial losses for renters are fire, crime, and liability suits? Lucky for you, tenant insurance can help you keep your bank account in tact — and get things back to normal as quickly as possible.
Let's take a moment to consider the facts:
Fire
With tenant insurance, you can rest easy knowing that a fire in your apartment won't leave you out in the cold. Not only could your policy cover the belongings you lost in the fire, but it could cover other unexpected expenses like a roof over your head and food in your belly while you wait to get back into your home.

(Viewing this from your smartphone? Click here to enlarge.)
Fast Facts for Renters: Fire
Fire doesn't care whether you rent or own your space. Thankfully, tenant insurance covers all the things that make your rental a home.
Nearly one quarter of all residential fires in Canada happen in apartments
The average cost of damages in an apartment fire is over $65,000
The most recent study of fire losses in Canada found that in 2007 alone, fires in apartments led to more than $185 million in damages
That same year, Ontario had more apartment fires than any other province: a total of 1,650 fires that led to more than $55 million in damages
In British Columbia, the average cost of damage caused by one apartment fire is over $140,000 — that's more expensive than in any other province
Source: "Fire Losses in Canada (Year 2007 and Selected Years)." Council of Canadian Fire Marshals and Fire Commissioners.
Crime
Coming home to find that a stranger has been there — and worse, that they've stolen your TV and smashed your glass coffee table — is something no one should ever have to experience. But if something like this happens to you, know that renter's insurance has your back — your insurer could pick up the tab for your stolen or damaged belongings.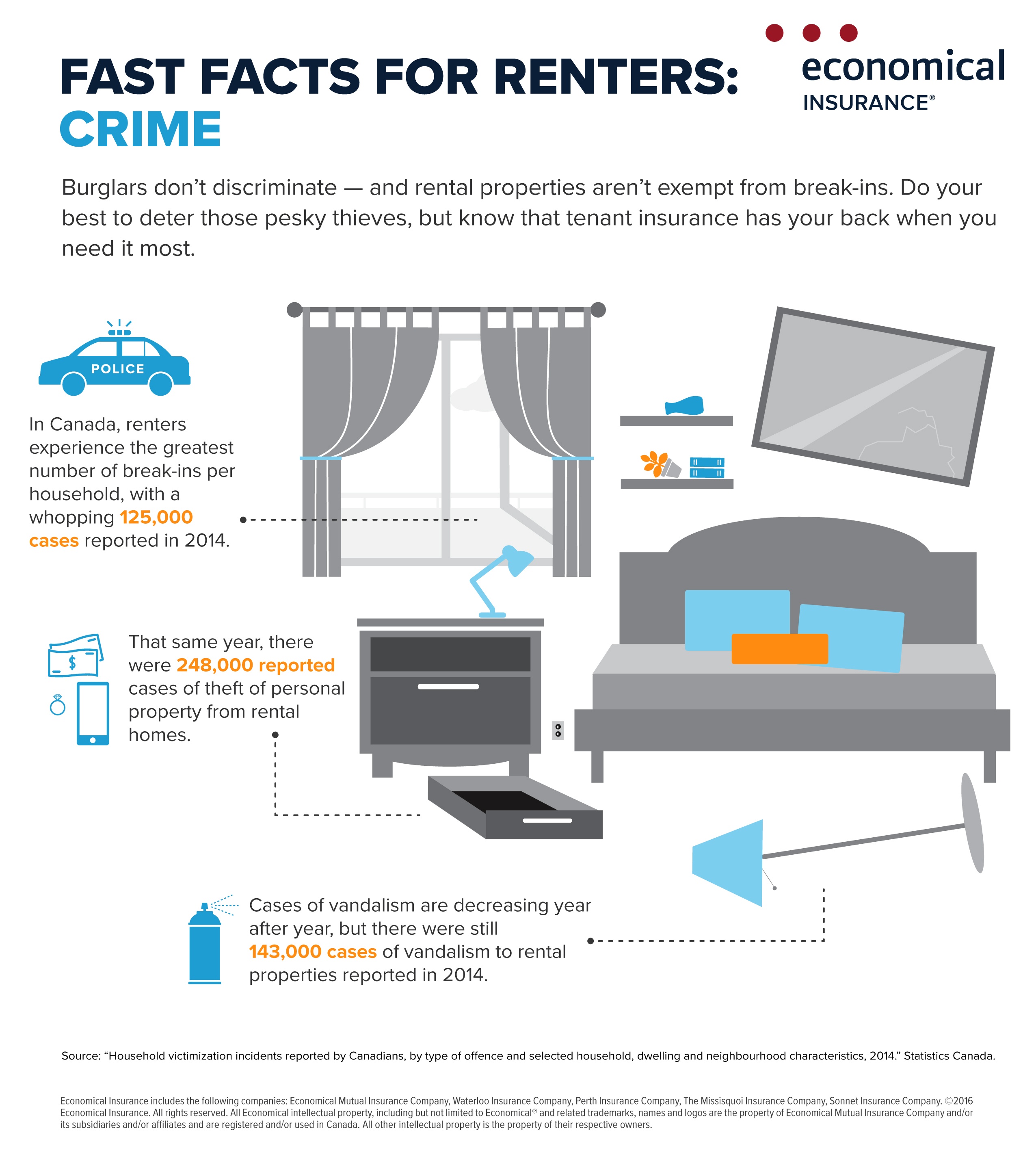 (Viewing this from your smartphone? Click here to enlarge.)
Fast Facts for Renters: Crime
Burglars don't discriminate — and rental properties aren't exempt from break-ins. Do your best to deter those pesky thieves, but know that tenant insurance has your back when you need it most.
In Canada, renters experience the greatest number of break-ins per household, with a whopping 125,000 cases reported in 2014
That same year, there were 248,000 reported cases of theft of personal property from rental homes
Cases of vandalism are decreasing year after year, but there were still 143,00.0 cases of vandalism to rental properties reported in 2014
Source: "Household victimization incidents reported by Canadians, by type of offence and selected household, dwelling and neighbourhood characteristics, 2014." Statistics Canada.
Liability
Of all the types of coverage in your tenant insurance policy, liability coverage could be the most important when it comes to protecting your finances. This is the coverage you need when, for example, a court decides you're legally required to pay for your friend's Ray Bans and medical bills after you break his nose and glasses at one of your weekly baseball games. Plus, it can cover any legal fees you encounter in the process. Accidents happen, and battles over money are never pretty. Talk to your broker to make sure you're covered.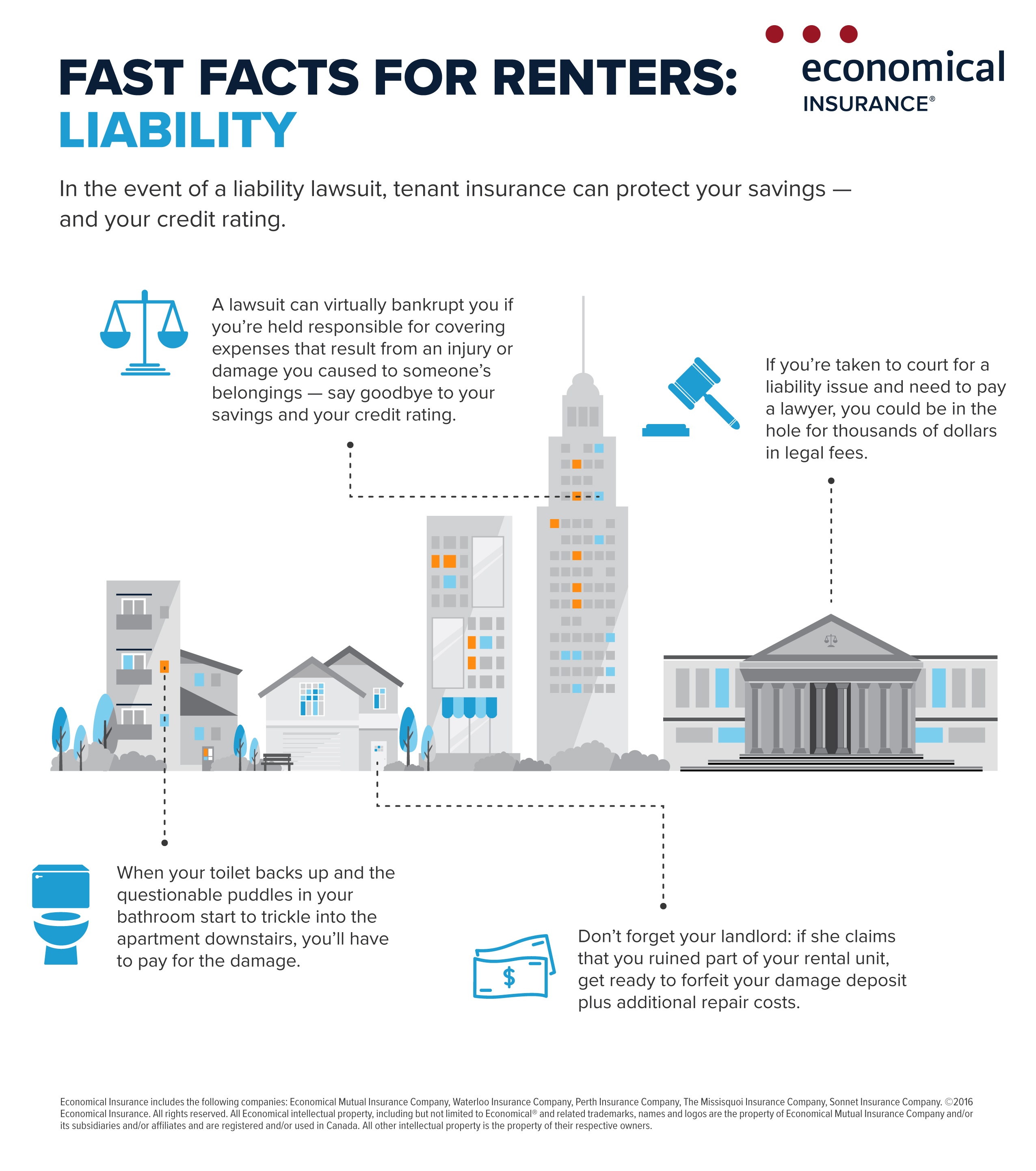 (Viewing this from your smartphone? Click here to enlarge.)
Fast Facts for Renters: Liability
In the event of a liability lawsuit, tenant insurance can protect your savings — and your credit rating.
A lawsuit can virtually bankrupt you if you're held responsible for covering expenses that result from an injury or damage you caused to someone's belongings — say goodbye to your savings and your credit rating
If you're taken to court for a liability issue and need to pay a lawyer, you could be in the hole for thousands of dollars in legal fees
When your toilet backs up and the questionable puddles in your bathroom start to trickle into the apartment downstairs, you'll have to pay for the damage
Don't forget your landlord: if she claims that you ruined part of your rental unit, get ready to forfeit your damage deposit plus additional repair costs
You have options
Get protected before the unexpected happens. If you're ready to get set up with your very own tenant insurance policy, connect with a licensed broker to learn about your options.
Source: Economical.com – Stephanie Fereiro  |  Published on: December 12, 2016