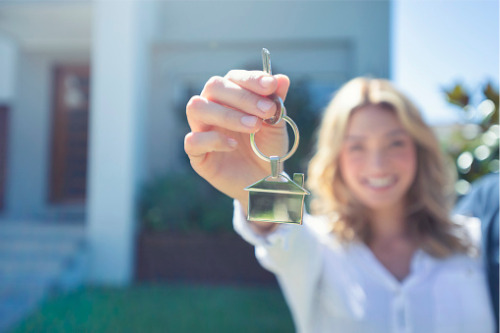 Girl power is growing in the real estate world.
61% of first-time and repeat homebuyers in Canada were female, according to the 2019 Canadian Mortgage and Housing Corporation (CMHC) Mortgage Consumer survey. This is backed up by statistics coming out of the US as well. Single women made up 17% of homebuyers in 2019, according to the National Association of Realtors, while single men accounted for about 9%.
"I've definitely seen a shift, with more women showing interest in buying a home. The whole concept of waiting till you're married to own a home is not as strong as it used to be," said Rakhee Dhingra, CEO of Mortgage Savvy.
After having a negative experience buying her first home, Dhingra decided to get into the mortgage business herself and created Mortgage Savvy in 2016. Since then, she has been committed to changing the transactional nature of the mortgage process. She is specifically interested in helping the growing number of women homebuyers become more confident in applying for mortgages through different initiatives like hosting homebuyer events and seminars.
"More single women are buying homes and even women in relationships are applying for mortgages as the more-significant income earners. Women are showing up as very strong from a financial standpoint," she said. On top of that, Dhingra has also noticed in the case of couples going through a divorce, there's a rising number of women who are buying out their male counterparts so they can stay and own their primary residence.
Not only is she focused on helping women into their dream homes, Dhingra also wants to encourage other female professionals to consider mortgage as a career option. Even though it's a historically male-dominated industry, she believes her emphasis on building real relationships and the ability to connect with her clients has really been the key to her success. She believes the industry needs more of that.
"I always make an effort to be available if a new professional reaches out for coaching or support. Several women who were part of my team have grown their career and eventually moved on to build their own business, and I really support that," she said. Dhingra said while she hopes to be a mentor for many young women in the mortgage business, she didn't really have that opportunity when she was starting out not too long ago.
Dhingra is known by her team and referral sources for calming demeanor and her ability to ease people's anxiety during the intimidating process of either buying a home for the first time, doing a refinance, consolidating debt or going through a divorce.
"If I can provide concrete information in a digestible manner for clients, and keep them calm through the process, that's the key. We keep communication timely and detailed, which helps eliminate a lot of the stress," she added.
In 2019, Dhingra was chosen by CMP as a Women of Influence. The recognition has been incredible positive for her and her business, but what she is most proud of is being able to show her daughter her success.
Dhingra also puts her money where her mouth is. Fifty dollars from ever transaction at Mortgage Savvy goes toward supporting local causes in Toronto, including the Red Door Family Shelter which assists families, refugees and women who are fleeing violence.
In the future, Dhingra hopes to help promote a stronger balance in the mortgage industry by bringing more women in.
"There needs to be more opportunity for collaboration and networking for not just women, but the industry as a whole. There needs to be a safe place for people to share information and knowledge without being seen as competition or a threat."